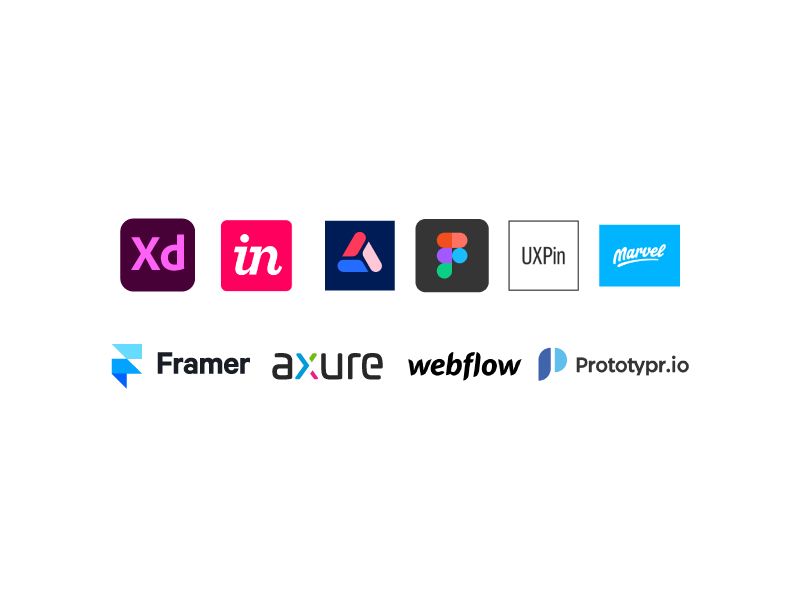 Top 10 UX UI tools to make your designing simpler!
If a picture is worth a thousand words, a website with a good UX/UI is worth a thousand visits. Designing tools are important
If a picture is worth a thousand words, a website with a good UX/UI is worth a thousand visits. Designing tools are important whether it is for experimenting, making prototypes or preserving overall design consistency. Let's look at ten UX/UI tools that assist in smooth prototyping:-
Adobe XD

This helps in designing website wireframes, interactive prototypes and is available on Windows and Mac platforms. It is one of the popular UX design tools. The tool uses mathematical equations and geometric images to add features to the product.

Features:-
Works smoothly on cloud
Smart guides and grids are allowed
Designing through Adobe XD is more efficient
InVision Studio 
InVision Studio is a phenomenal designing tool for UX design. The combination of designing, prototyping and collaboration makes the designing process a flawless one.
Features:-
Allows the designer to present prototypes in a professional way
Designers can keep a record of all past edits or earlier designs
Creates an actual website viewing experience and allows the designer to control their design.
UXPin 
UXPin is a collaborative tool for designing, prototyping and handoffs. The tool is available on Windows or Mac. It allows multiplayer co-editing. The interactive elements are easily accessible. UXPin simplifies collaboration with library system.
Features:-
Powerful animations
Complete design collaboration
Very responsive design with breakpoints
Webflow
Webflow is a visual tool for designing websites with clean code. Webflow allows designers to create a functional responsive website. It deploys scalable worry-free hosting with a single click.
Features:-
Real data from APIs/JSON etc
Creates high-quality reusable codes
Highly responsive websites can be deployed with ease
Figma
Figma boasts of the most real-time design collaboration and features any prototyping tool. It has various intuitive design tools. A mesmerizing set of tools from various sources is available. Figma includes prototyping mode, developer handoffs and hotspots to streamline design workflow.
Features:-
Fully featured and ideal for designers
Real-time collaborative design features
Features set of intuitive design tools
Marvel 
Marvel is a favourite tool for those who are looking for simpler, friendly alternatives to complex tools. Marvel has created an excellent tool that works for both advanced UX designs and novice UI designs. It communicates high and low fidelity concepts. Marvel has integrated POP, which allows designers to put their ideas into Android and IOS devices.
Features:-
Highly responsive design
Offers great support for transitions
User-friendly user interface for non-designers.
Axure
Axure fulfills web development, wireframing, and mocking the basic requirements of any UX/UI design. It provides the framework required at the beginning of any project. One of the most convenient and frequently used tools by designers is Axure. It comes with various styling features and strong interaction options.
Features:-
Prototypes generated are password controlled
Previous versions can be stored and controlled
Uses conditional logic, dynamic content, drag and drop, and animations
Photopie
For developing prototypes with minimum coding, designers look forward to Protopie. It is a great prototyping tool for smart devices. Protopie has new exciting features like smart sensors. The most unique feature is the bridge mechanism.
Features:- 
Designing experience is very user friendly
Designers can create code-free prototypes
Supports multi-finger gestures and sensor support
Framer X
From custom icons to intricate illustration, Framer X is the perfect tool for UX design. You can tune your design with advanced path editor and export from the canvas. It also makes advanced editing simple. You can draw everything from logos to icons.
Features:-
Supports creations of smooth logos
Export anything, anytime with CSS and SVG code
Can create advance path editor and custom shapes
Atomic
This is a tool that solves complex problems in the process of building a product. This is a prototype to guide you from the beginning to the end of the product. You can also use other apps and export to atomic.
Features:-
Great user-interface
Compatible with Mac/Windows users
Users can easily use lots of tools available in Atomic