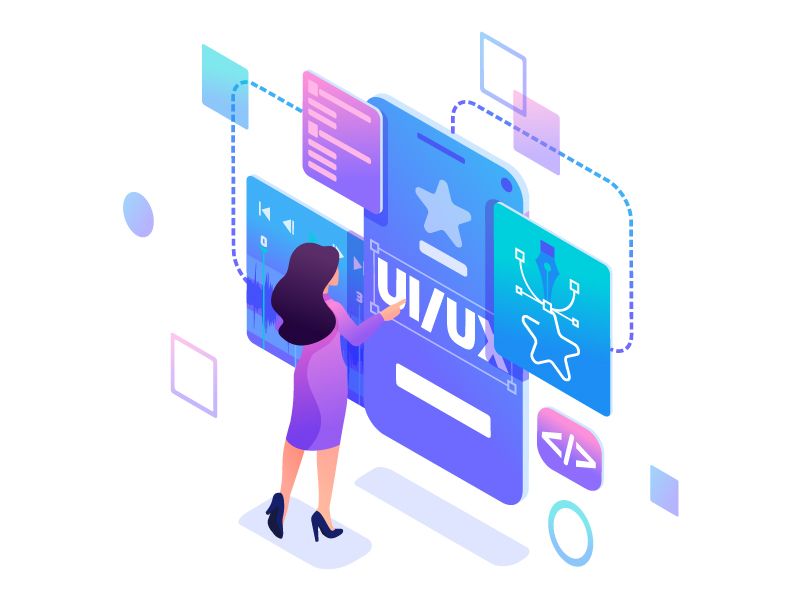 Essential components of good user experience and user interface design
User experience (UX) is crucial to modern web designing. In this day and age of shifting user expectations, a good UX
User experience (UX) is crucial to modern web designing. In this day and age of shifting user expectations, a good UX must be tweaked to fit all such user needs and to successfully do that, designers must be proactive, constantly on the lookout for new user trends and ways to streamline them through technology.
What follows is a list of essential components of a good user interface (UI) design, that results in good UX.
Simplification of Journey:
User experience design must keep in mind the specific intention of users for accessing websites or apps, which they want to achieve fast. A good UI design would try to simplify that journey with fewer steps, that save more time in goal achievement. One way to do that would be to provide relevant information, easy to use formatting, and smooth flow of navigation.
Linear Designing:
It consists of a structured journey according to an established layout for the beginning, middle and endpoint of UX. Enabling users through a consistent flow of one action at one point in time across the journey, this user interface design helps streamline the task and makes users aware of the required timeframe.
Anticipatory Designing:
It recognizes possible user requirements to accommodate them efficiently and swiftly while reducing friction which makes it difficult for the users to reach their goal.
Progressive Disclosure Technique:
This helps in UX enhancement in case of a lot of information being available. In this case, information becomes visible solely on-demand, so that users are not distracted by irrelevant information.
Context-Based Information Display:
UX optimization happens in this case by displaying the most relevant information according to a user-defined context.
Focused Content:
Creating relevant, readily available, and properly-organized content is key to generating better UX and making websites and mobile applications appealing to their expected users. Eliminating unnecessary distractions, creating precise visual order through powerful visual signals, proper whitespace to allow breathing room within the content are all important for good user experience design.
Personalization:
Personalization is dependent on individualized data and machine learning technology, which creates time-saving UX designs, through automatic adjustment for specific users, such as personalized recommendations in present-day apps and websites depending upon user behavior.
Such suggestions improve the chances of user-action.
Humanization:
Technological advancements regarding touch and voice recognition over multiple digital devices, make the users expect to interact with digital products in the same way as with other humans. This is through humanized user interface designs such as emotion sharing through face recognition, app feedbacks by mimicking natural human emotions, micro-interactions, etc.
Biometric Authentication:
Instead of using different passwords for identity verification in applications and websites, biometrics can prove easier in verifying the users with fingerprint, voice, or facial recognition, and therefore increase security measures for both businesses and personal users.
Voice User Interface (VUI):
Along with the streamlining of hardware devices, user interface design is also making the latest gadgets lose more buttons, and become more voice-centered in interacting with users. VUIs are now integrated into most major technological products from Amazon, Google, Apple, Microsoft etc, and it might be a good idea for your app or website to benefit from the same.
UI and UX should effectively come together in the manners mentioned below for any app or website to make its mark with the users.
Strategizing:
This involves analyzing the various parameters relating to a service or product, such as the intended user and business objective.
Scoping:
It includes both functional and content-related requirements of any service or product.
The functional requirement deals with specific functions that may work independently and/or in tandem.
Content-related requirements relate to the information provided for this require proper functioning of any service or product, which may include text, videos, audios, images, etc.
Structure:
Interaction design is related to the functional requirements and deals with user interaction with any product or service and the return in the response.
Information architecture is related to the content requirements and deals with determining the placement and organization of various content elements for greater user cognition.
Skeleton:
It deals with the sensory or visual design of any product or service, focusing on content appearance, correct layout, typography, etc, guiding the user on the possible usage of the product.
Prototyping:
This involves testing looks, interactive elements, and usability of product or service across multiple scenarios, which is carried out before the actual development phase.